By Jon Cook
MoneyMix
Contributor
Are you itching to get a pet? While pets certainly can improve your quality of life, make sure you understand the financial responsibility you're getting into. Chances are, you'll spend more on a furry, feathered, or scaled buddy than you think.
If you're deciding whether to get a pet, experts recommend thinking about the decision rationally. That means not letting your emotions get the best of you.
"Don't get enamored with [a] pet when you see it," says Barbara Cushway, humane education assistant at the Oregon Humane Society in Portland. "You need your head in the decision."
nothing's free
One way people get roped in is with advertisements touting "free" pets. But the initial cost of the pet is just the beginning.
In addition to the purchase cost of the animal, there are the costs of vaccinations, spaying/neutering, and worming, and a lot of this rings up in the first weeks of pet ownership. You also may want to have procedures like dewclaw removal to prevent later problems.
Get more information about dewclaw removal.


Use animal care sheets to start your research.
In addition to these expenses, the daily cost of food and treats can set you back as much as $80 to $110 a month depending on the size and species of the animal. The price of veterinary exams averages about $260 a year for a healthy dog, and required preventive medicines for fleas, ticks, and heartworm add another $200 a year. If your animal has health problems, these amounts can skyrocket.
Depending on the animal you choose, figure in grooming and kenneling expenses. Grooming can cost up to $100 every three months, and kenneling your animal while you're away can cost up to $50 a day for each animal.
All these expenses add up. According to MSN Money, a dog typically costs more than $8,000 during its lifetime and a cat typically costs more than $10,000.
You can save money by choosing to adopt a pet from a shelter. When adopting, you save much of the initial purchase cost of the pet, and the costs of spaying or neutering. Vaccinations generally are incorporated into the nominal adoption fee. In addition, some veterinarians offer discounts if you can prove your pet is adopted.
"If you choose to adopt an animal, you're helping the one you adopt, and you're making room at the pound for another animal. You can save some money, too," says Devon Thompson, animal care project manager for PETCO, San Diego.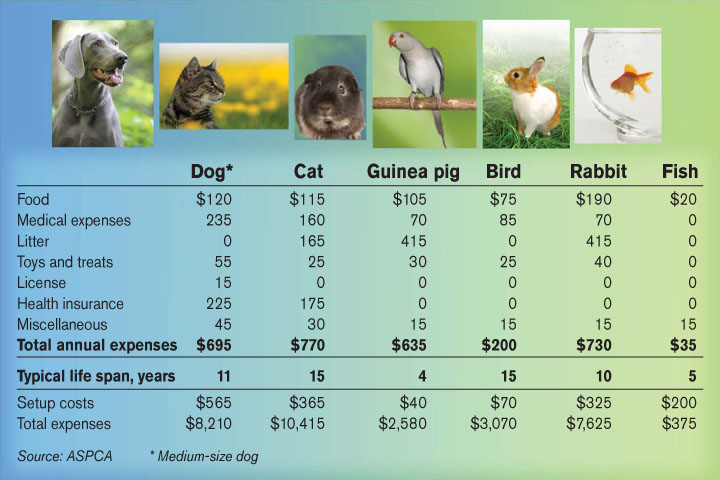 "If you're adopting an animal, you should start with a young one," says Dr. Al Raymond, a veterinarian at the Animal Wellness Center in Davis, Calif. "Dogs, for example, will develop health problems around nine years old, including arthritis, GI (gastrointestinal) problems, ACL (anterior cruciate ligament) issues, and decrease in liver function. If you're attached to the animal when they develop these issues, you'll pay a lot to improve their quality of life."
thriftiness rewarded
There are a few ways to save money when caring for your pet. Start by researching dog foods and buy a generic brand that has the same quality ingredients as name-brand food. In fact, you can buy many generic pet products at your local pet store, including litter, treats, and grooming supplies.
In addition, you can order your pet's medications from specialized sites such as 1800petmeds.com to save money. According to Kiplinger, one prescription costs $70 a month in a clinic vs. $33 on the Web.
Some of the medications doctors prescribe for animals are used by humans as well. You can buy many of these medications over the counter at your local pharmacy for less than what your veterinarian charges. Talk to your pet's veterinarian before you go this route.
think down the road
Be sure to take your future income into account when you get a pet. If you were to lose your job, how long would you be able to keep your new friend?
"When the economy went south, we saw an influx of pets being brought to the pound because their owners couldn't afford to keep them," says Cushway. "It was awful. Many people lost everything, including their pets."
You may not be able to forecast national economic issues before you get a pet, but you can set aside some money just in case. Some people set aside as much as $3,000 to $4,000 in case they lose their income or their pet has an emergency.
do your research
The best way to find the right pet is to research the animal you're considering. Make sure you're planning for the long haul.
"Many people often pick the wrong breed for their family and then get rid of the animal not too far down the line," says Raymond. "Talk to a vet and research animal breed personality traits."
According to Raymond, if you like to come home from work and be a couch potato, a working breed of dog isn't your best option. You may want to choose a cat or a laid-back dog like a basset hound.
"Remember, if you get a working breed dog, like a border collie, they're going to need you to spend time with them, and they're going to need some tasks," adds Raymond. "If you don't give them tasks, like exercise, they will make their own, and the tasks they create may make your life miserable."
Make sure you also research how to train your animal. If you don't know how to properly train your pet, get help. Behavioral issues are the No. 1 reason animals are relinquished.
All in all, the more information you have about the pets you're interested in, the better off you'll be.
"Being a responsible pet owner is not out of reach, it just takes research," says Thompson.