The Internet is a vast source of knowledge, so much so that it is hard to keep track of it all. And the great amount of "College Advice" can feel overwhelming.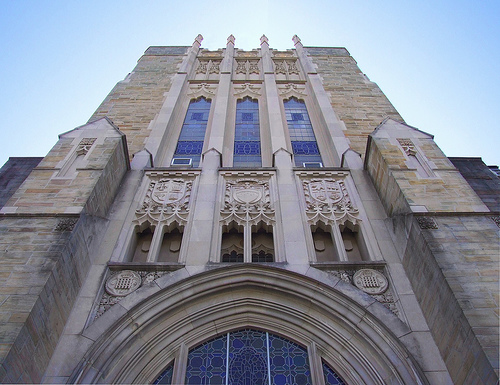 We are constantly reading and researching to make it easier for you the reader to get the knowledge you need. So here you have it as organized by CollegeScholarships.org: The Top 100 Education Advice Blogs.
However, 100 blogs is a lot. Here are some "Top 5″ highlights.
Hackcollege offers a range of modern college advice
Hack College : Ranked 14 on this list, but many students would list this site as number one. Hack College is a potpourri of cutting edge technology, college social life, and pod casts. This website has something for every student that wants to improve their college experience. Articles like "How to Digitize your Text Books" and "Solutions for Frustrating Cord Problems," the bane of any crowded dorm room full of technology.
CollegeCandy: This site offers more for and from the ladies, with a slew of writers from around the country taking on trendy, edgy topics. Fresh content is always produced, mostly focused on lifestyle, beauty and relationships making for fun reads. But there is much more than make-up tips, and the blog pushes some boundaries to raise topics they know are on the minds of many students.
ParentsCountDowntoCollegeCoach.com: Parents often play a huge role in the college planning and payment process. This site has parent oriented articles like "A College-Parent Partnership", "Is student safety at the top of your list?" and "Substance Abuse in College" for a balance of important and at times sobering material. Parents are well advised to work together with their children through the college selection process. Since college costs are high and the job market is tough, many parents would do well to assist in their child's transition, or face the prospect of a "boomerang" moving back in after graduation.
Huffington Post's College Blog: From the world's most popular collection of blogs comes this gem of college knowledge. Be prepared for big ideas and scathing political commentary as well. They also offer some great slide shows on topics like "7 Reasons Why Your College Roommate Hates You," so it is a good mix of serious national politics and college colloquialisms.
"If you don't know where you are going, any road will get you there." Lewis Carroll
Study Hacks: Take an even deeper dive into your learning. Study Hacks gives insight into a variety of educational-based topics from how to be a better writer to what it takes to be a world-class engineer. This website offers articles that can help any student improve their academic ability. But it does not stop there. Articles like "The Danger of the Dream Job Delusion" and "Passion Must Be Actively Pursued, Not Passively Waited On — Welcome Zen Habits Readers" take knowledge and apply it outside the classroom.
***
Ken O'Connor is a financial aid expert and the director of student advocacy at cuStudentLoans.org. Learn more about credit union private student loans and college planning by visiting his blog.