By Erienne Andvik
MoneyMix
Contributor
You know that rush of excitement you get when you find an airline flight for a great deal? You panic as you try to book as fast as possible—before the fare disappears into the abyss. Finding airline deals doesn't have to be about luck. There's a lot you can do to sweeten your chances of landing a good deal.
buy in to social networking
Many companies use social networking as an exclusive way to promote huge fare reductions. These sales sometimes don't even show up on the airline's website. It can be a pain to check many sites at once, but signing up for an RSS feed pulls all the information into one place so you can browse deals quickly. See the resource box below for links to popular feeds.
If your travel dates are flexible, you can almost always find a better fare than you would with fixed dates.
consider your destination
Using travel websites such as Orbitz, Travelocity, and Expedia can be a great way to compare fares across airlines. What you might not know is that these sites generally aren't great ways to find good deals on international flights. International airlines often aren't included, which could mean you're missing out.
The best way to find a good international flight is by going old school—to a travel agent. Travel agents have access to tons of airline companies, and can do the legwork of finding an international flight at no additional cost to you.
Often, student travel agencies can save you even more money, even if you're not a student. STATravel.com offers deals on flights for anyone younger than age 26.
consider all airlines
Quick, think of five airlines that fly out of your closest airport. Did you come up with all major carriers, or did you consider discount airlines? Some lesser-known airlines—such as Midwest, Southwest, and AirTran—offer great deals but aren't always top of mind.
To find all available airlines, do an Internet search for your home airport and find the complete list of airlines that fly into it. You may find some you've never heard of. Check websites of those airlines for prices and compare them with what you find on major carrier or travel websites to see if they can save you money.
Not all airlines show up in travel website searches. For example, the only way to book a flight online with Southwest is on Southwest.com.


Useful websites:


STA Travel


Airfare Watchdog


Bing Travel


Jet Blue Twitter feed


Airfare Watchdog Twitter feed


Jauntsetter Twitter feed


United Airlines Twitter feed


Travelzoo Facebook page


Search the Web for an airline name + Twitter to bring up a company's Twitter account.
watch price trends
Airline fares can be frustrating, as they seem to fluctuate dramatically in a short period of time. Bing Travel (formerly Farecast) tracks trends between destinations. Bing shows you if fares are dropping, holding steady, or rising, which should give you the confidence to make an immediate purchase if fares are on the rise, or hold out if fares are dropping.
the (flexible) bird gets the worm
If your travel dates are flexible, you can almost always find a better deal than you would with fixed dates. When searching online sites, there's generally a 'my dates are flexible' checkbox you can select before you search; sometimes it's hidden, so click the 'advanced search' option. With many sites, this will bring up a grid showing several days before and several days after your entered flight dates and you can see which combination provides the lowest fare.
put it all together
Let's walk through an example to see how much you can save:
Flight path: Denver to Boston
Travel days: Friday to Sunday
Step 1: Get a fare baseline for several date ranges. A quick search on a major airline site from Friday to Sunday showed a fare of $387 round trip. I chose a flexible search, so I can see that shifting dates from Thursday to Saturday or Saturday to Monday drops the fare to $278, a savings of $109 just for shifting my trip by one day.
Step 2: Check lesser-known airlines. I did a Web search to find the Denver International Airport website, and then found a list of all the airlines that fly in and out of Denver. Search results for a flight with the same criteria as my baseline flight showed these results: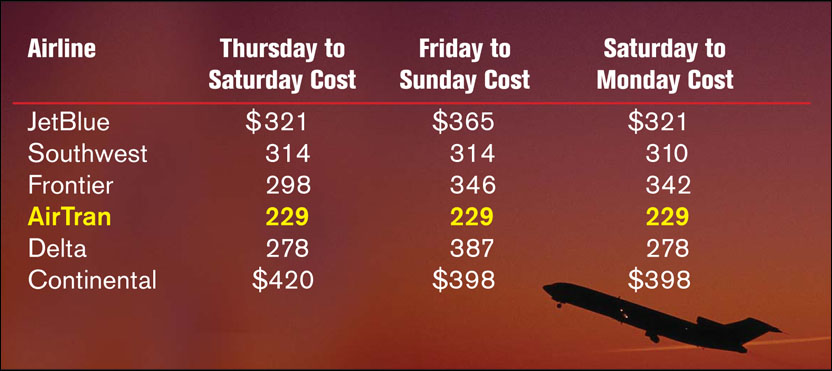 Step 3: Check social networking feeds. I have an RSS feed with many travel updates and I didn't find any deals for this destination and dates, but it's always a good idea to check.
Step 4: Check major travel sites. I checked several sites and all came up with the same $229 AirTran fare. Bing Travel showed that prices were on the rise with 80% confidence so, in this example, I would feel confident booking the flight on AirTran right now.
As with any significant financial purchase, the key is always a little bit of research. Thanks to the Internet, a little time, and a handy-dandy spreadsheet, you can buy tickets with confidence.